Wishing everyone an Eggs-ceptional, Easter, hope you have an Egg-cellent day full of Egg-citement and Egg-statica. Children are Egg-cited about the Egg-ceptional chocolate Easter Eggs they have, it is no Eggs-aggeration. Everybody will need to Eggsercise after eating so much Eggstraordinary Eggs.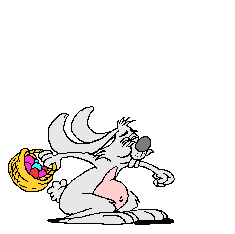 The Easter Rabbit had a spat with his wife
She said the dumb eggs were ruining her life
Laying eggs is so boring
Then there's your snoring
He met his demise with her carving knife...
NOTE:..apparently she borrowed the knife from
the farmer's wife, who had been having trouble
with some blind mice.